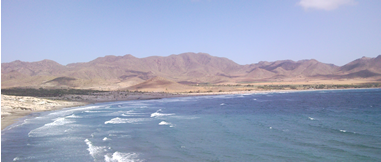 SCHEDULE OF ACTIVITIES MWS2015
MAP OF VENUE OF MWS2015
The Scientific and Organizing Committee is pleased to invite you to the "Metal, water and Sun 2015" workshop that will be held in Almeria from 21st to 22nd May, 2015.

The meeting mins to enrich our respective disciplines through direct exchange of ideas on water soluble metal complexes and the photochemical properties of metals under visible/solar light.

Almeria city is rich in history, culture and traditions, and in few kilometers combines a beautiful Mediterranean sea, the mountains and the desert, which will add value to the expected scientific quality of the meeting. The University of Almería, open to the sea, is a reflection of the will of a city to go constantly ahead and make themselves known to the world. It is important to stress the excellent cuisine that you can find in Almeria that is characterized by excellent products from both land and sea: excellent food and superb wines.

IMPORTANT:The venue of the meeting will be "bioclimatic room" at the University of Almería. The plane of the University, which states how to get from the bus stop , can be found at the following link: Map of the University.


THIS WEB SITE WILL BE UPDATING IN THE UPCOMING WEEKS.